In this project we had to make a clay tile... We had to pick a animal or a landscape to carve or build out of the clay. I used my own ideas because I wanted to do a snake so when I think of a snake I think of a desert. So I came up with the idea to make the ground below the snake cracked. Which I thought was really cool.

For this project I felt like I increased my skill at clay making. I have used clay before back in middle school and it was one of my favorite units. But we would only learn basic stuff. But I feel like for this project I increased my skill because I learned more techniques and had to add a lot more texture to it to make it look real which I have not done in the past.

For this project I did experience some challenges when trying to make the tile and snake look real. First off I had trouble getting the clay to form into the shape I wanted for the snake. And also the head of the snake was actually pretty hard to make look real but in the end after time I got it to work. Also the cracks in the tile to make it look dry, I had to make sure those look real and make them all look like they fit together.
Powered by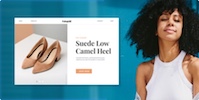 Create your own unique website with customizable templates.